Finding the Best Marble Run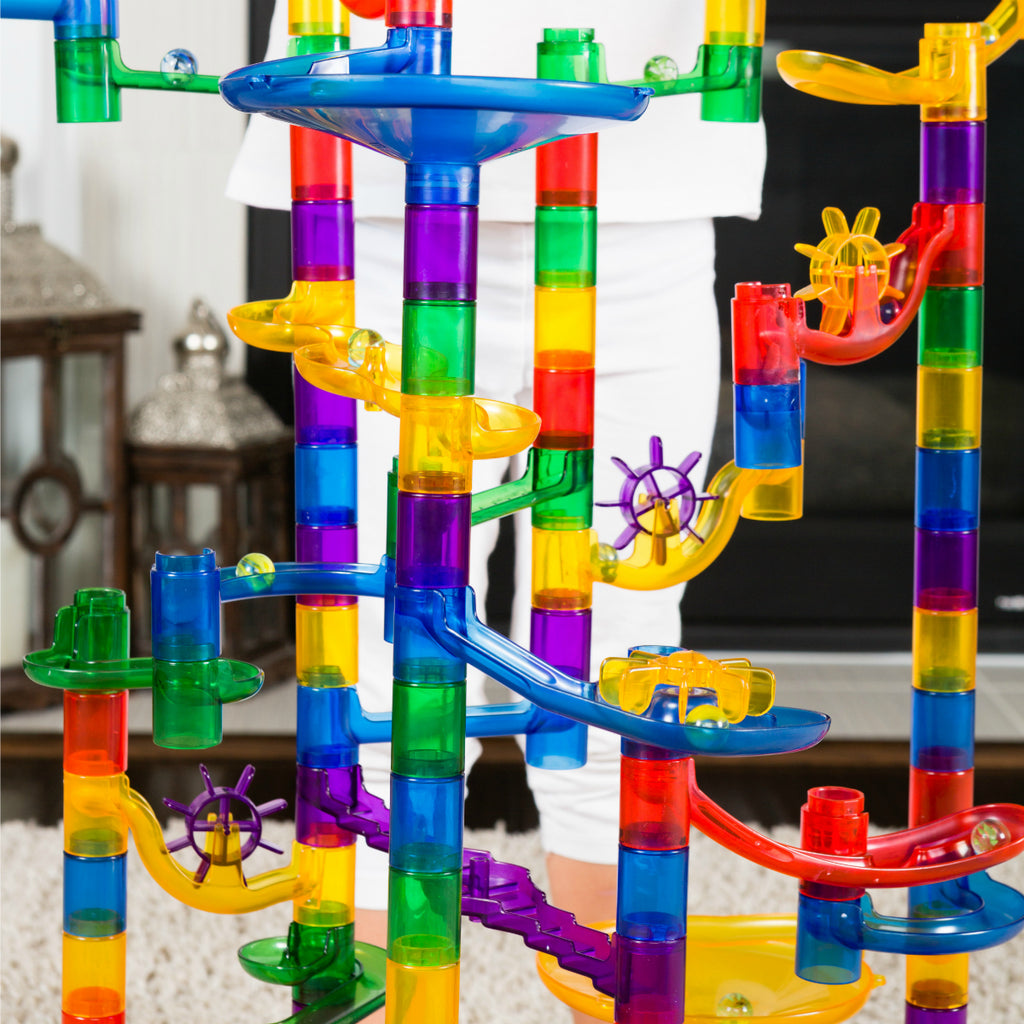 Finding the best marble run can be a daunting task because there are so many options and the quality differences between products can be significant. No matter how difficult it might be, doing a little research up front will save you a lot of money and frustration later.
Here are some tips to make your marble run search a little easier...
DEFINE YOUR PURPOSE OF BUYING A MARBLE RUN.
It's essential to know the specific reason of your purchase when considering a marble toy. Do you want to build a marble race? Are you looking for a marble roller coaster that requires complex construction? Or are you looking for a traditional marble run toy that allows your kids to create numerous configurations and endless fun?
Once you're clear that you want to move forward with purchasing a marble run, there are additional considerations to take into account.
UNDERSTAND THE COMPANIES MAKING MARBLE RUNS TODAY.
There are a number of companies that sell at least one type of marble run, and each of them have their pros and cons.
Galt
This is one of the better companies that has mostly satisfied customers. Customers who have complained mention its poor design and quality for the price. Galt's primary marble runs don't have see-through pieces -- a feature that tends to be a kid favorite.

(Galt Mega Marble Run Toy)
Quercetti
This is an Italian-made product that has received an average response. Many people are unhappy with its poor quality and flimsy structure. However, Quercetti offers a variety of eye-catching pieces in their sets.
Imaginarium
This company is well known for creating education toys, but reviews suggest that Imaginarium's marble run doesn't live up to their usual standards. The run is difficult to assemble, and once built, isn't sturdy for long-lasting play. They do, however, offer colorful, eye-catching pieces that are sure to get kids excited to play.

(Imaginarium Deluxe Marble Race)
Mega Fun / Mindware / Toysmith 
Each of these companies makes several different marble run toys, but have mixed reviews regarding the quality of product. Mega Fun and Toysmith get the worst reviews in terms of flimsy structure and quality, while Mindware is a more solid option. Toysmith and Mindware marble runs don't have see-through pieces, whereas Mega Fun offers a mixture of both. Be sure to research and read reviews for pros and cons of each one before purchasing.

(Toysmith 80-Piece Marble Run)
Edushape
Edushape has a number of different marble run products. Many of their designs are bright and colorful. Unfortunately, many of their sets get mixed reviews due to the pieces not staying together very well and the bases not being solid enough.

(Edushape Marbulous Marble Run)
Discovery Toys
The Discovery Toys Marble Run was one of the originals and still receives a good response. The pieces are easy to assemble for older kids, but can be challenging for young kids. It's an entertaining set because of additional add-ons, but unfortunately these products have failed to innovate over the years, so the colors and some of the pieces are a bit outdated.

(Marbleworks Starter Set by Discovery Toys)
Marble Genius
Here at Marble Genius, we've gone to tremendous lengths to build high-quality marble runs that are stable and durable. We've researched every product on the market, noting its strengths and seeking to improve on its weaknesses.
Our designs are bright and colorful and feature a number of exciting action pieces. From the very simple to the very complex, Marble Genius has a marble run for every age group that's both challenging and engaging. Our pieces stick together well, but they can come apart easily when built by younger kids. We also provide a higher number of large bases to support the tallest of marble runs.

(Marble Genius Super Set)
DO PLENTY OF RESEARCH BEFORE BUYING YOUR MARBLE RUN.
Before you purchase any marble run, we highly encourage you to do your own research on each of these products so you can come to your own conclusion. Don't get sucked in by pictures alone, but make sure you pay attention to all of the quality aspects mentioned above. For more specific buying tips, check out these articles on purchasing a fun and sturdy marble run.
Happy shopping!