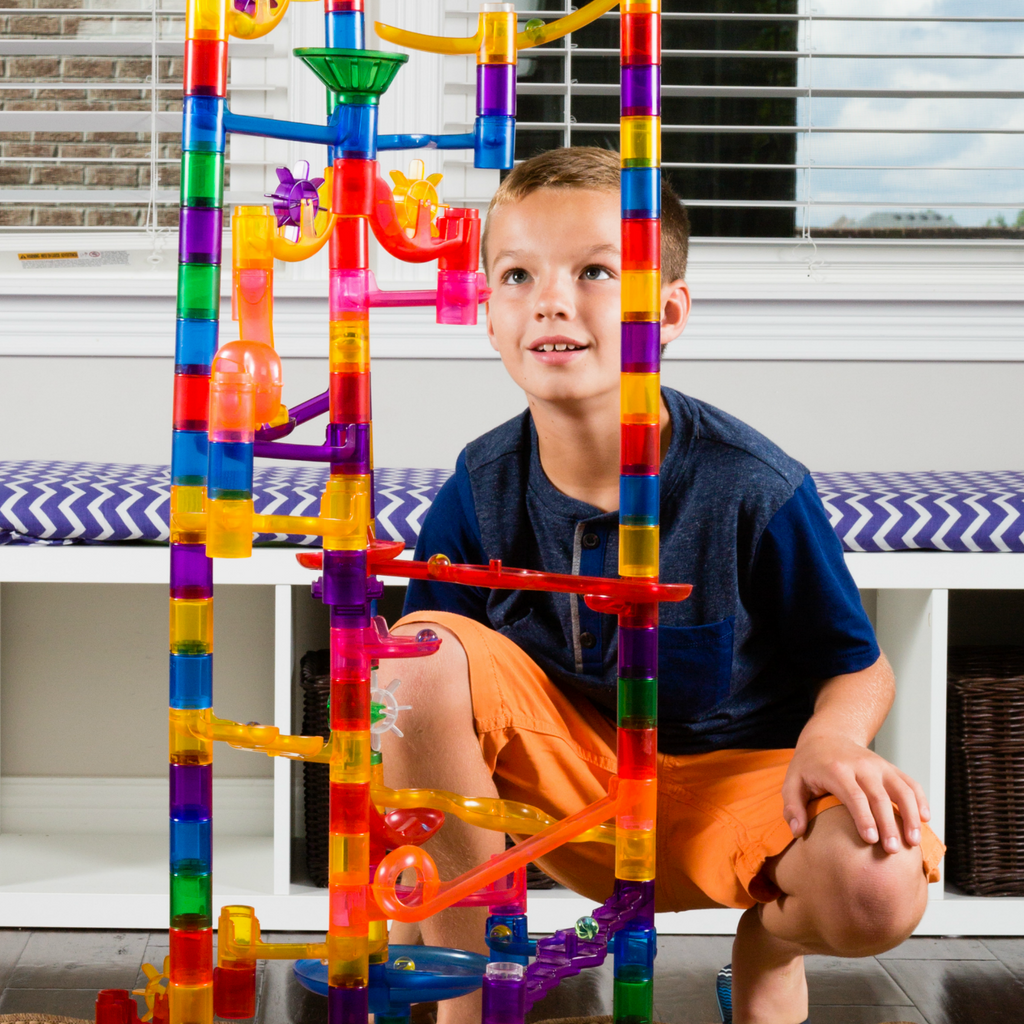 When you're a kid, toys are your world. They give your imagination space to play and keep you entertained for hours.
With millions of toys to choose from, it's safe to say not every toy ticks all the boxes for imagination and entertainment. Here at Marble Genius, we believe the best toys combine fun and learning. Not only do you want your kids to smile while playing with them, but you appreciate toys that teach your kids to be creative and gain some knowledge about the world around them.
This is why we pour so much effort into producing quality marble run toys. Not only do they capture a child's interest, but they can teach fundamentals of physics, engineering, and design. Learning through entertainment is the best education of all!
THE FUN FACTOR
As you've probably discovered, if kids know they're learning, they may be turned off from a toy. That's why the fun factor is so important. What ups the fun factor in a toy? In our view, the ability to continually expand and change a toy is crucial.
When buying a toy, consider the various uses it will have. Does it offer additional components or add-ons that can freshen it up in the future? Does it provide multiple possibilities for use beyond pushing a button? These are the qualities that can keep it new and exciting for your child.
WHY MARBLE RUNS ARE THE ULTIMATE FUN TOY 
Since we specialize in marble runs, here are some of the reasons we believe marble run toys tick all the boxes for "fun":
They're colorful and eye-catching. Kids are visually driven, so bright and exciting colors are crucial to increase the fun factor.
They're dynamic and offer endless hours of entertainment. After a marble run is built, the fun doesn't stop. Kids love watching the marbles roll through the paths, and they can constantly make tweaks to change up the action.
They're a playground for the imagination. Kids can let their creativity loose and build whatever structures they want. Even better, they're more fun to build with friends!
HOW TO CHOOSE A MARBLE RUN WITH THE HIGHEST FUN FACTOR
We believe there are two key components that guarantee the highest fun factor in your marble run:
1. Action Pieces
When looking for a marble run that delivers the most fun, the first thing to keep in mind is the parts that make it up. Marble runs can be very simple, offering the basic components to build a structure. Others offer lots of exciting action pieces, like ladders, wheels, and chutes, that will keep your child entertained for hours. (Our Super Set and Extreme Set offer a great variety of action.)
Important Note: Be aware that some marble run manufacturers like to advertise a large number of pieces for a cheap price. However, some of these "pieces" may actually be half of a piece that needs to connect with another to create a full piece. For example, one particular product counts each marble as two pieces, since they come in two plastic half-spheres that have to be snapped together. Don't be fooled by the claims on the front of the box, but dig deeper to see what the actual pieces are.
2. Solid Construction
Even if a marble run is visually appealing, it will quickly lose its fun factor if it doesn't stay together once it's built. While marble runs encourage kids to problem solve and make sure the poor construction isn't due to an error on their end, the manufacturing of the pieces can also be a factor.
At Marble Genius, we've worked hard to create a high-quality product, including testing multiple versions on our own kids to ensure the most solid construction possible. (To see one of the biggest tests we put our pieces through, check out our two-story marble run video.)
Marble runs are a classic toy that have gotten a facelift in recent years. We're honored to be part of the new wave of toymakers creating toys that not only inspire children to learn, but more importantly, deliver tons of FUN!