Launch your Marbles & Build Mazes with 3 New Products!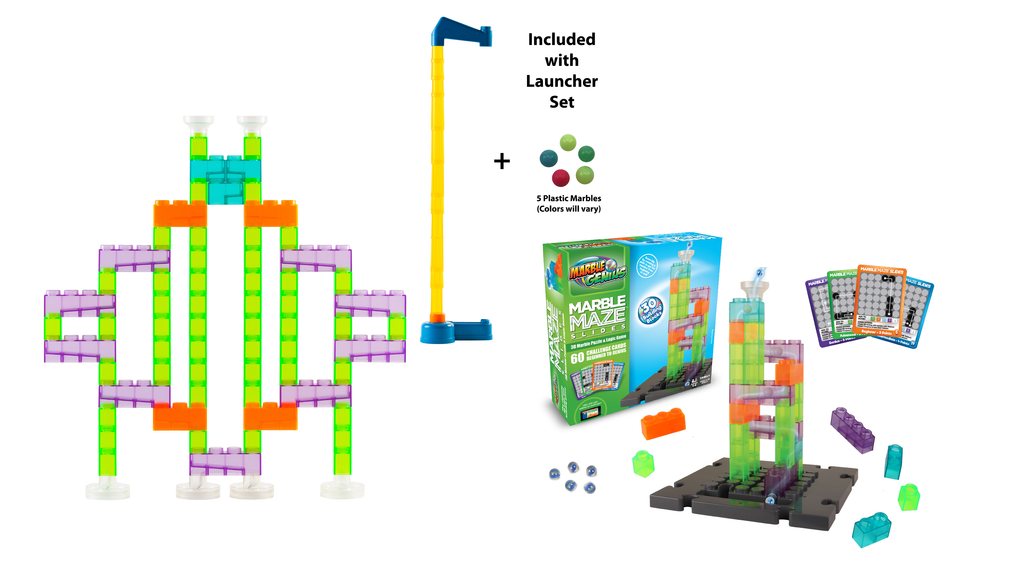 One of our favorite things to do in the Marble Genius toy lab is create exciting new ways to learn and have fun. We've been hard at work and are thrilled to announce three new products that we're launching this month.
Here's a snapshot of each…
This set is unlike any we've designed to date. It's a STEM/STEAM set that includes our innovative and patent pending slide pieces. With 16 action pieces and 48 supporting blocks, you can create any maze imaginable. Build vertically or horizontally, and watch the marble follow the path from start to finish. The Slides Creator set is perfect for open-ended play with endless possibilities.
If you're looking for building ideas, we include a step-by-step guide in the set and also have step-by-step guides on our Free Marble Genius App. Combine multiple sets together OR combine with any of our traditional marble runs (Starter Set, Super Set, Extreme Set, Accessory Sets, etc.). Hours of fun await!
Stretch your mind with this brain-stimulating game. It includes 60 challenge cards ranging from Beginner to Genius and can be played on your own or with friends. Each of the cards identifies a challenge to complete and the pieces that are allowed to complete it. You can optionally time yourself to see if you beat the time on the card.
While this game uses the same types of pieces as our Slides Creator set, it offers more structure and mental challenge as you work to complete specific challenges. Be sure to check our free app for more challenges that will extend the fun!
This launcher can shoot plastic marbles up to 32 inches in the air or glass marbles up to 21 inches. It's a great way to expand the fun of your existing marble run and learn about physics. For example, the weight differences between marbles will impact the height they can shoot. Also, if the marble hits the side of the tubes on the way up, this friction won't allow the marble to reach the top. This accessory has been a hit at Marble Genius HQ, and we're excited to share the fun with you!
As with any of our products, we welcome your input and feedback! Reach out to us at support@marblegenius.com to share ideas or stories of how these toys have brought fun to life in your home.
Happy building!