Marble Genius Instruction App Released!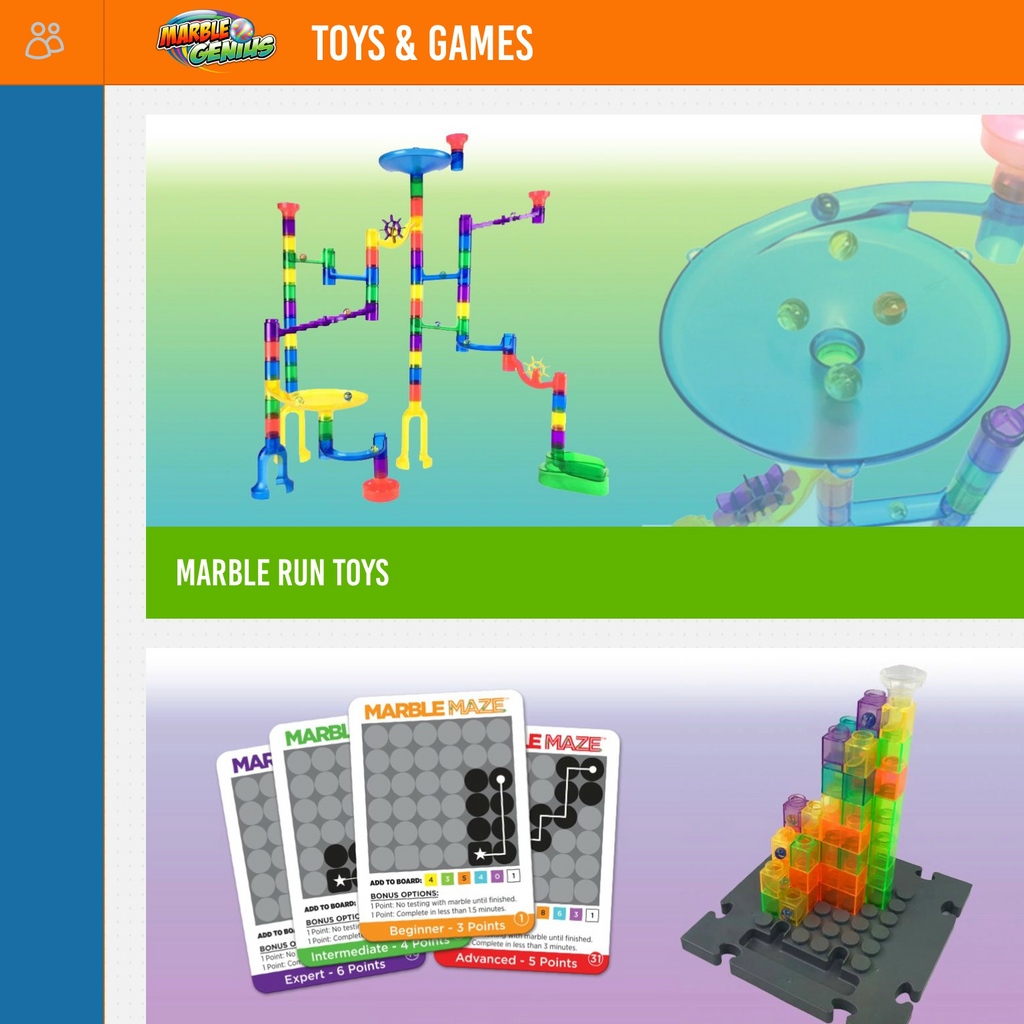 We're excited to announce that we have a FREE App to enhance your experience with all of our Marble Genius products!
While we recognize that our toys are "free play" toys like Lego that allow for infinite design possibilities, we've received requests for instructions that are easier to consume. We provide several guides with each of our products and have offered an 80-page manual available on PDF or Kindle, but we've long desired to provide visual instructions that are interactive and three-dimensional.
Enter the Marble Genius app!
Here's what you'll find...
As of the official release date of the app (May 16th, 2018), we have over 100 different projects across all of our toys and games, with four different skill levels (Beginner to Advanced). You'll find an introduction area for our Marble Run toys and Marble Maze games with both visual and video options.
Here's a breakdown of the rest of our products:
Starter Set -  4 projects
Super Set - 9 projects
Extreme Set - 12 projects
Pinked Out! Set - 6 projects
Marble Jungle Marble Run - 6 projects
Marble Maze Challenge Game - 80+ projects
Badges:
Every time a project is completed, you'll earn a badge with the Marble Genius Logo and check mark pictured below.  This will help you keep track of projects you've completed and projects you haven't.
Challenges:
In addition to the 100+ projects in the app, we also have a number of different challenges and we'll continually add more, which will keep our toys and games fresh and exciting. Some of our current challenges include Circular Challenge, Single Color Challenge, Longest Jump Challenge, etc.
Take a Pic & Share:
At the conclusion of every project or challenge, you'll have the option to take a picture of your project and share it with others on our app, through Facebook, or on the social media platform of your choice. Don't forget to tag us at #MarbleGenius so we can see too!
Compatibility:
Our app is compatible with iPhones, iPads, Android Phones, & Android Tablets:
Feedback & Ideas:
It would be a HUGE help if you could leave feedback in the form of an App review on either the App Store or the GooglePlay store! If there's anything that didn't meet your expectation or additional features you'd like to see, please send them to support@marblegenius.com and we'll prioritize them accordingly.
We hope this app takes your Marble Genius fun to the next level!