NEW TOYS & GAMES 2020: Flying Marbles Action Game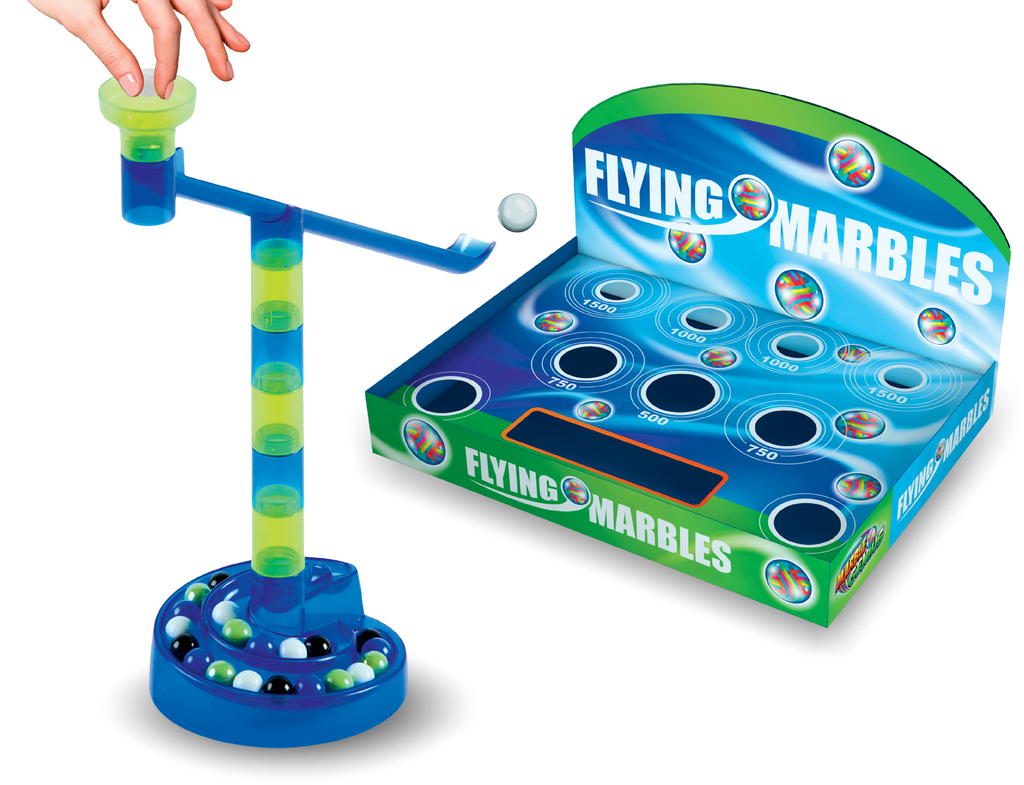 We are releasing a number of new products over the next couple of months and are excited to announce the upcoming release of our brand new action game called Flying Marbles!  We have been developing this product over the last 6 months, patented the game play so it can't be copied, and it is finally ready for release.
If you have 30 seconds, this video shows the game in action! 
Launch marbles up to 15 inches in the air and land it in one of 10 scoring holes with different point values.  Be careful because there is a large -500 scoring hole that likes to collect the marbles that miss their intended target.
We have tested this game with many individuals of all ages and the feedback has been incredible! We also received a prestigious award from a nationally recognized parenting group that we will be sharing details of shortly.  We included glass marbles in this set because they roll extremely consistently so it does develop skills while you are having fun!  
The cardboard stadium can be setup in less than 1 minute and is angled so that the marble will roll into other holes if it misses its intended target. The landing surface is made of a very dense cardboard called greyboard.  This surface is very durable, yet greatly minimizes the sound when the marble hits it.
The jump is a custom piece that is unique to this set.  It is over 14 inches long and if you use all the tubes in the set, it will launch the marble at least 15 inches in the air.  We have made the jump height adjustable so that the difficulty level can be easily adjusted.  We don't recommend this, but if you want to get crazy and add tubes from our other marble sets you can really make the marbles fly.  As with all Marble Genius products, all pieces are compatible with each other and can be used across sets.
For scoring, we have included 2 dry erase scorecards and 2 dry erase pens with erasers for easy reuse.
Play this game by yourself or with others.  We recommend ages 8 - Adult, but many younger children will enjoy this game as well (just make sure to watch the younger children with the marbles because they are a Choking Hazard).  There are 2 different games that you can play.  High Score which lasts 8 rounds and Around the World that lasts until someone gets the marble in all 10 holes.  We include a rulebook, but as with any game we encourage you to make your own "House Rules" and have fun!
Once you get the hang of Flying Marbles, purchase the Expansion Pack for added fun.  We include 5 new game boards and 100 optional trivia cards for added fun (and educational benefit if you are interested in that).  We include 50 trivia cards about space for Around the Galaxy and 50 trivia cards for Around the World.
Around the World - Explore 7 different continents with various sized scoring holes on this board. 2 different ways to play this game (with or without the 50 included Around the World trivia cards).
Baseball - Hit a home run (or singles/doubles/triples) and try to avoid the many "outs" around the board. Play as many innings as you want, but make sure to score more than your opponent.
Basketball - Outlast your opponent by scoring more points than your opponent in 4 quarters on this board. There are 1, 2, 3, and 4 point scoring opportunities as well as negative points if you aim wrong.
Around the Galaxy - Explore the 8 different planets (plus Pluto) in our Solar System with this board. There are 50 Around the Galaxy trivia cards that can optionally be used to test your knowledge of Space with this game.
Competition Board - This board is very similar to the standard game board included with Flying Marbles. However, this board is much more challenging and includes higher point values.