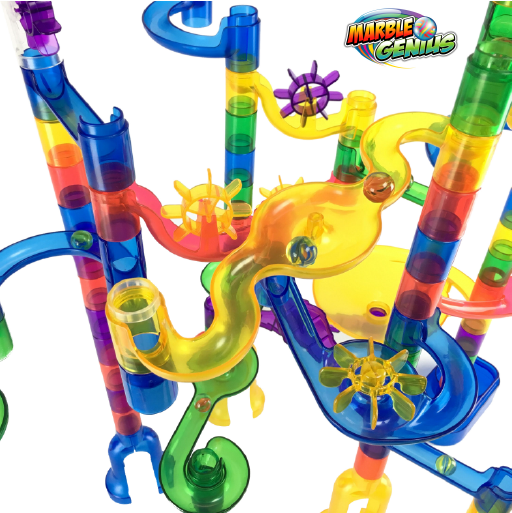 Several years ago we had a post about understanding social proof and what that means when purchasing a product. As more and more consumers buy products online, that has enabled consumers access to a lot more reviews and editorial recommendations leading to smarter purchasing decisions.  We have over 15K reviews (and counting) across all of our products averaging 4.6 stars.  Additionally, there are have been numerous sites and editorial recommendations for our products and we wanted to provide that update below: 
Amazon - Best Classic Marble Run
According to Forbes, Amazon market power is the #1 e-commerce site in the U.S. In addition, roughly 65% of the US households are Amazon Prime Members. Given this market power, looking at reviews of a product on Amazon is a great place to start to get a sense of whether this product might be something to buy or not.
Products with a significant number of Verified Reviews, as well as products that have at least 4 stars, are a good starting point for social proof. At Marble Genius, each of our products have a healthy number of Verified Reviews, and we encourage you to take a look at those before making a buying decision.
 
Another great thing to consider on Amazon before making a buying decision is how a particular item ranks in a given category. A product might be a Amazon Best Seller for the day due to a large number of giveaways or because they deeply discounted their price for a day to get a better ranking, but if you consistently see a product at the top of its category, it's safe to say that most people are buying that product in that particular category.
In the Marble Run Category, our Super Set has consistently been the Best Classic Marble Run Toy on Amazon. This can obviously change, which is why we included the link so you can see what the best selling marble run products are when you read this. When you want to identify what the best selling item in a category is, the quickest way is to Google "Amazon Best Selling _________."
RECOGNITION ON EXTERNAL WEBSITES AND BLOGS
As of this writing, there are over 1.8 billion websites on the internet, which is a staggering figure and another reason why you have to consider the source or look to multiple data points before relying on what is said. You can also use Alexa to see how popular a particular website is.
Wiki.ezvid.com:
According to Wiki.ezvid.com, which is the world's first video wiki that gets millions of visitors every month, our Marble Genius Super Set is the # 3 Best Marble Run Toy on the market. They spent over 29 hours compiling this, and if you click the link you can see the video of the top 10 marble runs and additional explanation. Note: they did not accept any money or input from the companies whose products they reviewed.
Best Reviews:
Another significant website,  bestreviews.com has ranked our Marble Genius Super Set as the #1 overall marble run for 2020 on the market. This website goes into great detail as far as their methodology, and they didn't accept any money or input from the companies whose products they reviewed as well.
One other interesting observation: the #1 ranked marble run on Wiki.ezvid.com was not even ranked on this website. This is another reason to look at multiple sources before making buying decisions because there can be significant variability with product rankings.
Find This Best:
According to FTB our Marble Genius Super Set ranked #2 for the overall Marble Runs and #1 for Plastic Marble Run.
FTP mission is to make your shopping experience hassle-free, stress-free, easy, and enjoyable. They aim to give you the most authentic information about all products. FTB collects the data of a particular product from many sources using machine learning algorithms, and then our teams analyze it.
Parenting Pod:
Parenting Pod is a kids' health and safety website that gets 2 million visitors every year. Parenting Pod consists of a team of licensed physicians and therapists who are committed to improving the mental health & wellbeing of families. Their mission is to help parents find the best toys and products for their little ones because sometimes, you don't know what's quality and what isn't.
Parenting Pod selected our Marble Genius Marble Run Super Set as the best building and construction toy for school-aged children in 2021. It's the perfect STEM toy for teaching hand-eye coordination while also providing endless fun!
We're extremely thankful to each of the sites above for the platform they've provided to help us grow our product. It's worth noting that we have no affiliation with any of the websites mentioned and our only affiliation with Amazon is that we sell on their platform.
Continue reading