2-Story Marble Genius Marble Run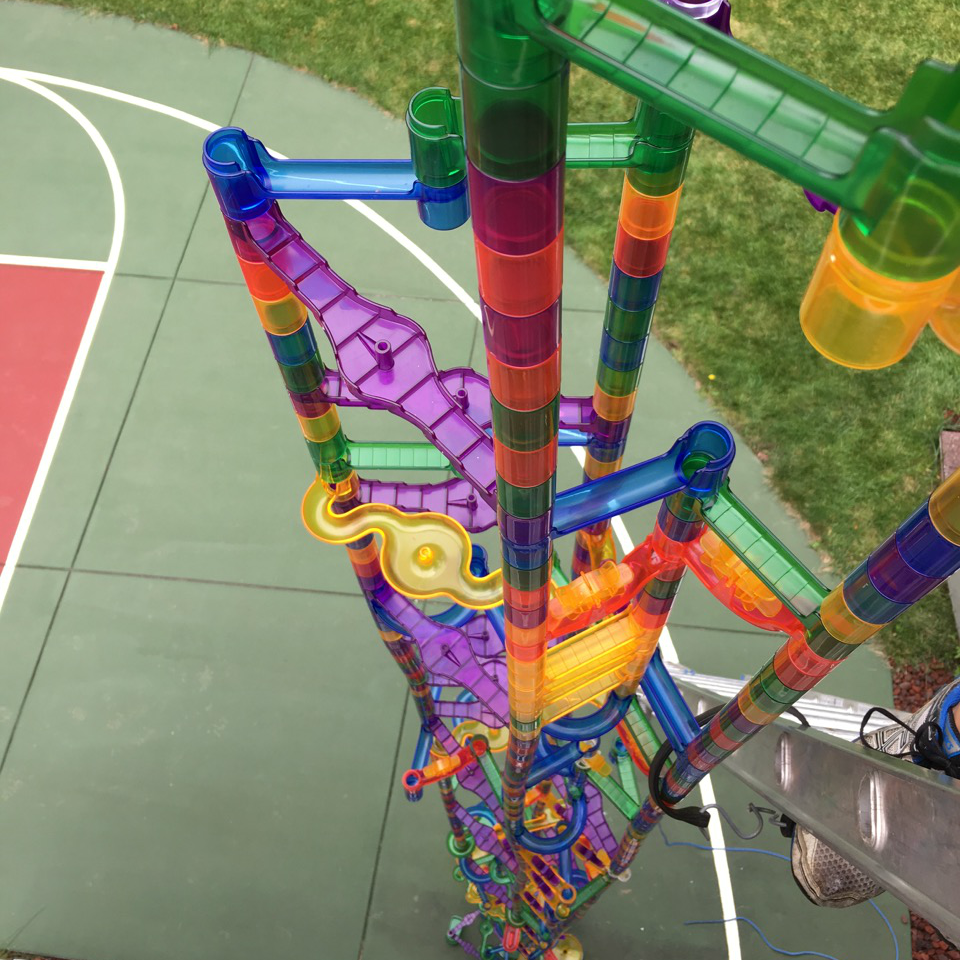 We've had a goal to build a tall marble run with our Marble Genius toys, and we decided to do just that a couple weeks ago!
HOW WAS OUR TWO-STORY MARBLE RUN BUILT?
After establishing a solid foundation with 10 bases, we started inter-locking the marble run pieces. Building the first 6 feet of the marble run went relatively quickly because a ladder wasn't necessary. The base and the first several feet of the marble run were the most important because the strong foundation allowed the marble run to climb over 2 stories.
In addition to the large number of bases at the bottom, 4 "poles" were established that would extend from the bases to the very top of the marble run. These poles are a combination of marble run tubes and marble run action pieces, as seen in the picture above.
Once we got above 6 feet, a ladder was needed to complete the build. This is the part of the marble run that took the most time (over 3.5 hours).
HOW MUCH TIME AND HOW MANY PIECES DID THE MARBLE RUN TAKE?
All told, it took over 5 hours to build this 2-story marble run and used over 20 Marble Genius marble run toys (Starter Set, Super Set, & Extreme Set).
As we finished, the wind started to pick up, so we secured the marble run to the ladder with a couple of bungee cords. Then we secured the ladder to the roof with another bungee cord. This allowed us to keep the marble run up for a week so we could produce the video at the end of this post.
WHY DID WE BUILD A TWO-STORY MARBLE RUN?
We sometimes see feedback on Amazon that indicates our marble run toys aren't very stable. We hope this 2-story marble run encourages those who struggle to create a stable structure. It absolutely can be done if you establish a solid foundation and interlock the structure.
Check out the video below for the full build, and be sure to send us your tallest marble run structures, or tag us on social media @marblegenius.
Happy building!