Why Educational Toys Are Important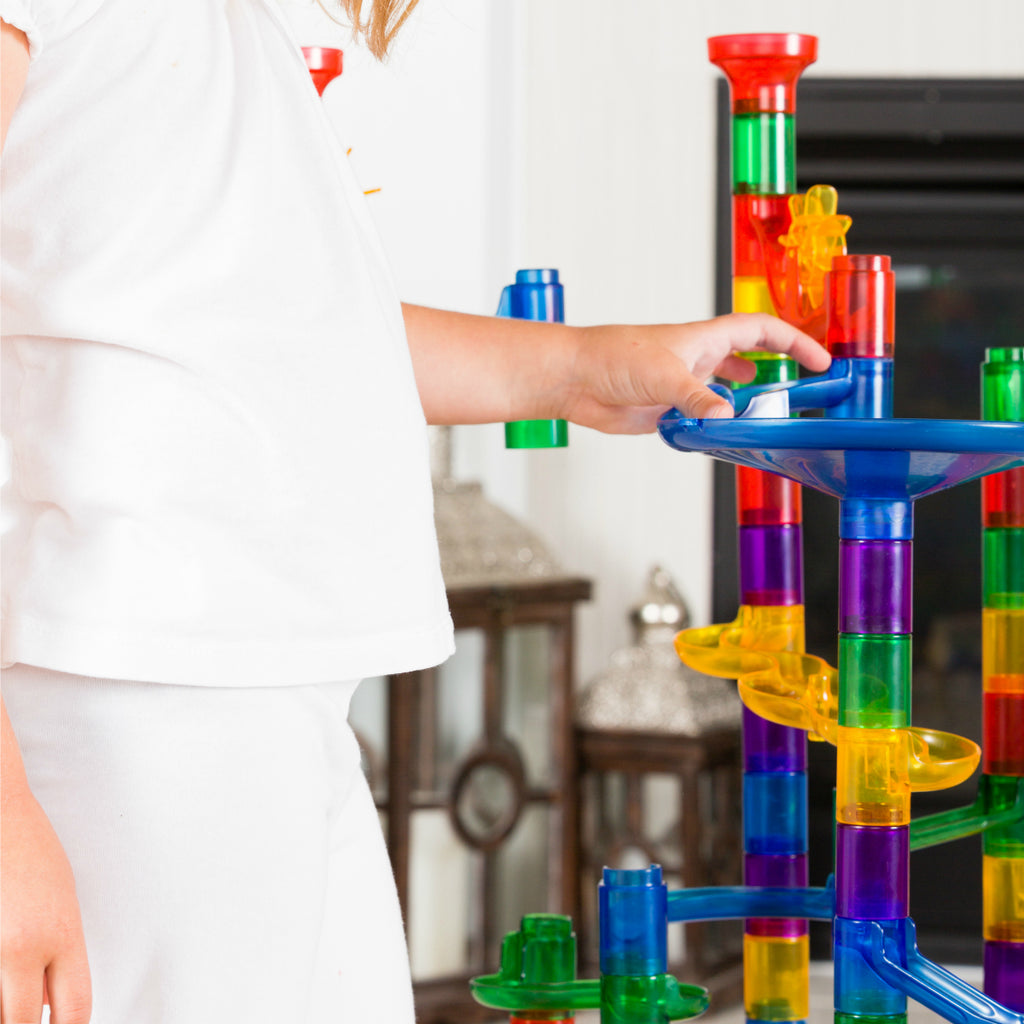 We all know that kids learn best with hands-on toys, such as Legos, building sets, science kits, and marble runs. But what exactly do our kids learn while they play with them?
The benefits of educational toys cover many aspects of a child's development. Here are a few we'd like to highlight.
BENEFITS OF EDUCATIONAL TOYS
1. Educational toys enhance creativity.
Through educational toys, kids are exposed to different ways of learning and playing. This ultimately enables them to try new things and explore their imagination. A good example is building blocks. While building a structure, kids have the opportunity to explore the world from their unique lens and imagine it in new and exciting ways.
2. Educational toys teach new subjects.
From a young age, children can be exposed to a variety of subjects through educational toys. Examples include learning about different colors, shapes, and words. Older kids can expand their knowledge of science, mathematics, writing, and more. One example is marble runs, such as the ones we make here at Marble Genius. When kids put together a marble run, they're exploring the concepts of physics, engineering, and math...all while having fun.
3. Educational toys develop problem solving skills.
Hands-on toys are designed to provide a problem that needs to be solved. Kids use their own ideas and thoughts to solve it and ultimately reach the given goal. Puzzles are a great toy that enhance problem solving skills. By developing these skills at an early age, kids are equipped to tackle bigger problems as they grow older.
4. Educational toys foster critical thinking.
In order for kids to reach the goal in educational toys, they need to engage their minds with plenty of thought, sequencing, and memory. Multiple senses come into play as they make observations and analyze different problems. Tracking, sequencing, and sorting are among the other skills they learn.
5. Educational toys boost kids' confidence.
Everyone gets a boost of confidence from doing something successfully, and this is definitely true of kids. Once they've worked hard to solve a problem and see the fruits of their labor, they feel more confident to tackle other challenges in the future. By introducing new varieties of educational toys, kids have the opportunity to test new skills and gain confidence in new areas.
6. Educational toys keep kids busy.
As parents, it's a continual challenge to keep our kids entertained without putting a screen in front of them. Educational toys are the perfect solution for boredom, as they offer continual challenges and ignite the imagination. Interactive toys that allow for future expansion are the best at occupying a child's interest for hours.
MAKE EDUCATIONAL TOYS A PART OF YOUR HOME
Keeping a wide variety of educational toys on hand will allow your kids to expand and grow in new ways every day. By stocking your home with puzzles, building blocks, marble runs, and more, kids can explore their creativity, learn new subjects, develop critical thinking and problem solving skills, and grow in confidence. Best of all, they'll have FUN!