Is Your Marble Run Sturdy?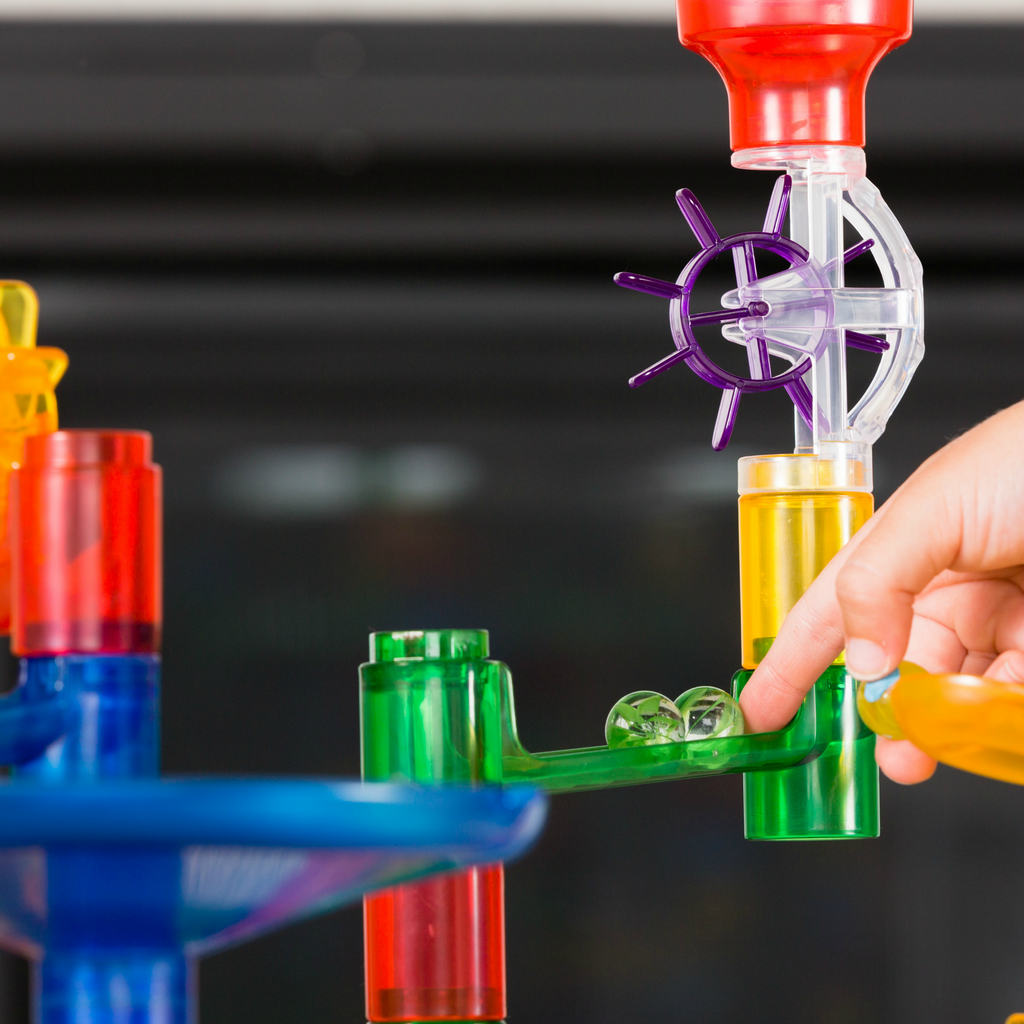 Marble runs can be great toys that provide hours of entertainment for you and your children. However, a number of very cheap and poorly designed marble runs have emerged on the market that will lead to nothing but headaches.
To an untrained eye, all marble run pictures on the internet might look the same, leading you to buy the cheapest priced product. However, we've learned from firsthand experience that this is definitely not the case.
There are six questions you should ask yourself to ensure you buy the sturdiest marble run possible:
1. What does the marble run look like up close?
Marble run products that have few pictures and no close-up pictures are ones to stay away from. Nine times out of ten, the companies selling these products are trying to hide something. If you can't see the marble run pieces up close, keep looking!
Here's an up-close image of our Super Set pieces. You can see the plastic is thick and strong, and there aren't any tiny parts that can easily break.  You can also tell that all the pieces fit together snugly.
2. How big are the marble run bases?
The base of the marble run is the equivalent of a strong foundation of a home. If you have weak bases like the green one below, the marble run will be weak and wobbly. However, if you have at least one or more large bases like the blue one on the right, this will go a long way to help ensure the marble run is stable and strong.
3. How thick and strong is the plastic of the marble run pieces?
To the untrained eye, it might appear that the two pieces below are the same. However, the marble run piece on the left is significantly thicker and stronger than the piece on the right. This leads to a strong structure and allows the pieces to stick together better.
4. How well do the marble run pieces stick together?
Most marble run sets won't show this to you because their pieces don't stick together well. Below is a picture of the Marble Genius pieces being held sideways over the floor. They didn't budge through the multiple takes of this photo.
If you buy a set with pieces that don't stick together well, you'll know it instantly because your set will keep falling down as you try to build it. If you're lucky enough to get your marble run assembled, you won't be able to move it because it will quickly fall apart. 
5. Does the set have miniature pieces?
The orange pieces below are a great example of tiny parts that will break in no time once your child starts playing with it. These can also become a choking hazard for small kids. Stay away from marble runs that have a bunch of miniature parts like the orange pieces below.
6. Which marble run looks stronger?
When you put two marble run toys side by side, you can easily tell which one is sturdier. The marble run on the right has stronger bases, and the quality of materials doesn't compare. When shopping for a marble run, you might not have the luxury of putting two pictures side by side, but hopefully this gives you an idea of characteristics to look for.
If you use these six questions as a guide when buying your next marble run, it will go a long way in saving you time and frustration! Always read the product reviews, and try to watch any videos that the manufacturer has created so you know what you're buying.
To save yourself a lot of time and hassle, rest assured that if you buy a Marble Genius marble run, we've thought of all these things and produced our toys accordingly.
Happy shopping and happy building!