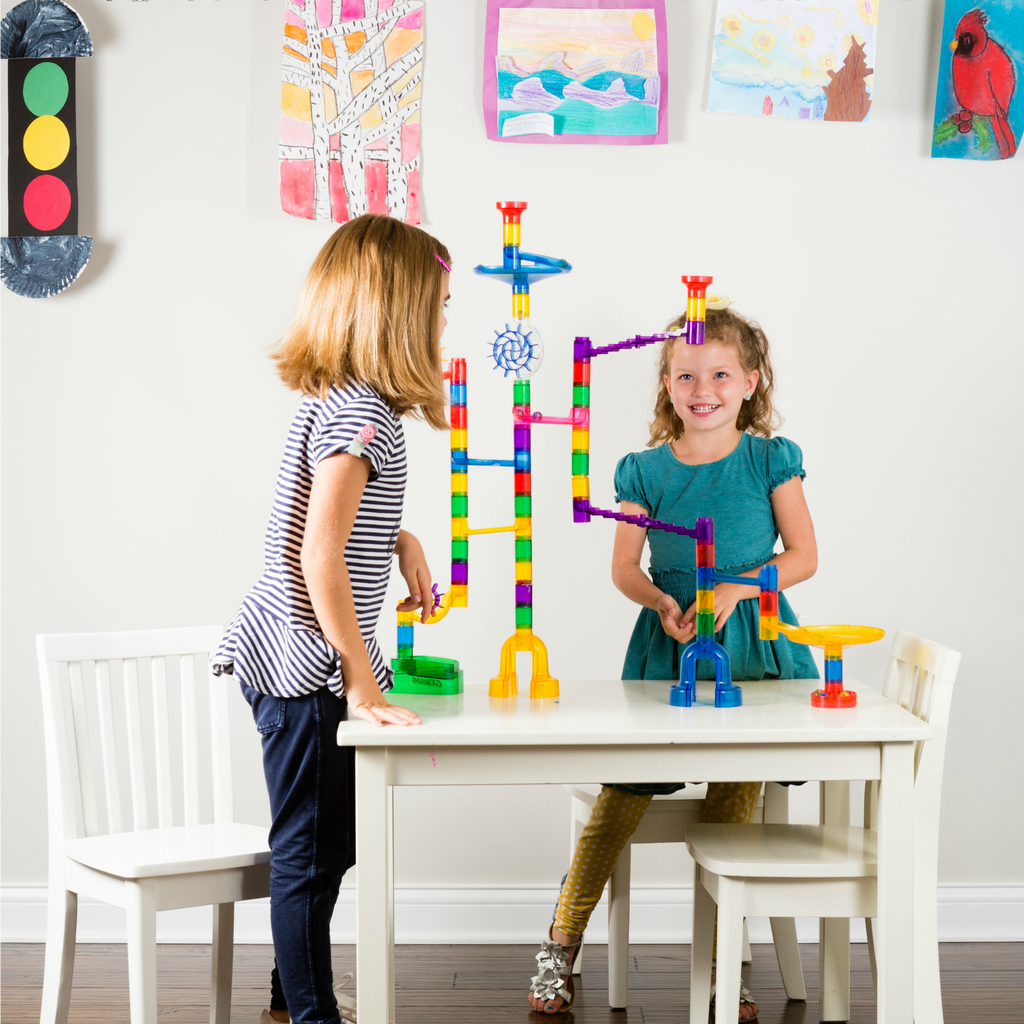 Many of us have fond memories of playing with marble games when we were kids, and nothing makes us happier than seeing our own kids or grandkids having a blast with the very toys that brought us joy.
While some aspects of marble games have remained the same, a lot has changed over the years. Many more products are on the market, not to mention new innovations and mind-bending challenges that have been introduced. When it comes to choosing the right marble game for you, it can be overwhelming to know where to start. 
What are some of the key categories of marble games on the market today?
1. Marble Roller Coasters
These come unassembled, often with many small parts, and the track is open rather than tubed. The building process can require a lot of imagination and patience, making these a better fit for older kids. Once built, marble roller coasters create lots of excitement as the marble follows the path. Since they're geared toward older kids, these sets tend to look less vibrant, focusing more on the construction aspect than providing a variety of colors.
(Spacerail Star Coaster Level 2)
2. Marble Runs
These of course are our specialty here at Marble Genius. Marble runs are similar to marble roller coasters in that they require assembly and create lots of exciting action once they're built. However, the pieces are tubed and slightly larger, making them much easier to assemble and modify for kids of all ages. Marble runs feature bright colors, and most sets feature see-through pieces, allowing kids and parents to watch the marble as it races down the track.

(Marble Genius Super Set)
3. Magnetic Marble Runs
These marble runs contain larger pieces that can be arranged on a magnetic surface, such as a refrigerator or magnet board. Once they're arranged, the marble rolls from top to bottom. Placement is important to avoid dropping the marble between pieces. These sets typically work best for younger children, since the pieces are larger and require less construction work. Older kids may get bored with these quickly due to the limited creations that can be made and fewer unique pieces.

(Tumble Trax Magnetic Marble Run)
Once you decide which type of marble game you want, here are a few tips to keep in mind:
Set up your marble run or coaster on a smooth surface, preferably in an open space for free movement around the track. If setting it up indoors, a large table or sturdy flooring work well. Softer carpets aren't ideal due to lack of stability.
Let your imagination have fun as you explore new combinations and structures. The best way to make the most of these toys is to allow for free play.
Challenge a friend or family member with a competition, such as building the tallest marble run, using pieces of all the same color, or creating a marble race down the stairs. The possibilities are endless! For more ideas to take your marble game to the next level, check out our YouTube channel for creative ways we've used our Marble Genius sets.
Marble games are the perfect toy to have around the house. They're an appealing alternative to screens, and they provide endless possibilities of creativity and fun. Let your kids' imaginations run free!
Continue reading